This May at INTERMACH, Two Industrial Machinery Giants believe to participate in the most important and largest metalworking machinery technology event of the year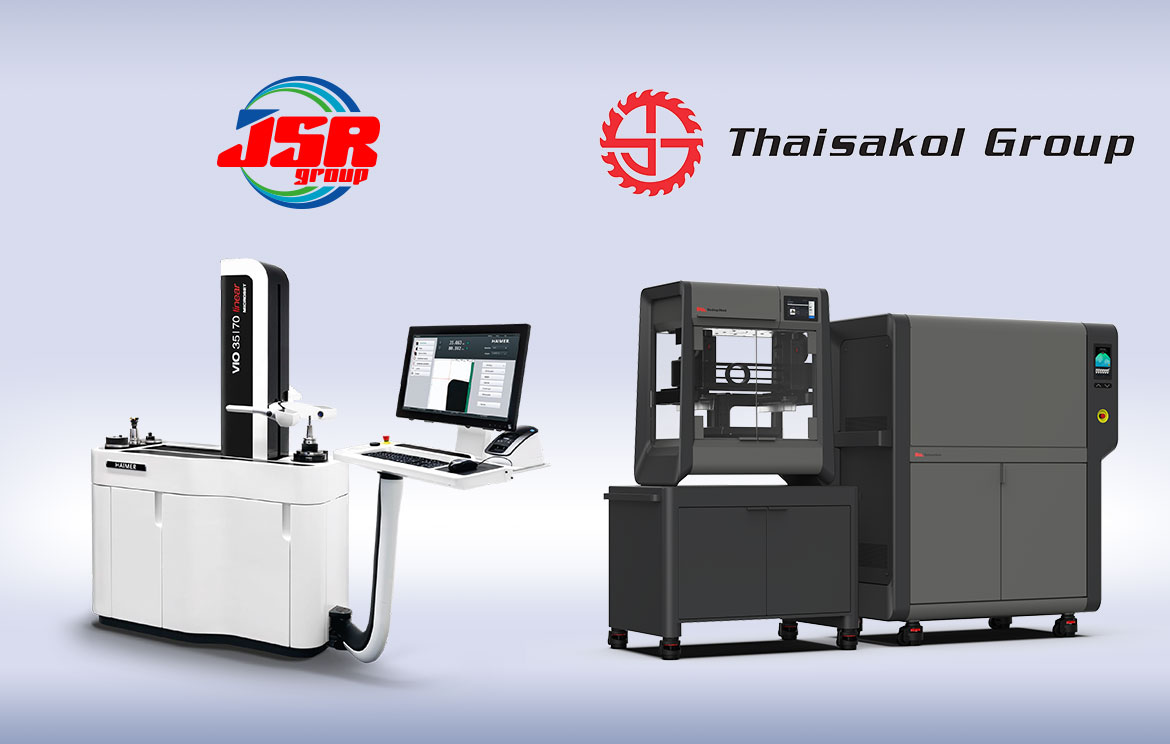 JSR Group and Thaisakol Group, a leading importer and distributor of machinery and industrial tools that never stop developing to provide the best solutions for customers, are coping with industrial crisis and still able to stand as the leading in the industrial machinery despite the heavy crisis during the past year. Both are confident to attend INTERMACH and respond to the recovery of the Thai industry at the most appropriate time.
JSR Group is confident that the industrial sector will recover in 2022, ready to send machinery and innovations to exhibit in INTERMACH
Mr. Annop Jirojjaturonn, Director of JSR Group, said that after the COVID-19 pandemic, Thailand's industrial sector is likely to gradually recover and rebounding in 2022, which is close to 2019 growth. JSR Group has also learned from past experiences in dealing with risky situations. Thus, the company has adjusted our business guidelines to be consistent. A flexible working style has been prepared for the changing situation at all times, especially investment in innovation and modern technology for supporting the work. All of these have proven that during the COVID crisis that we are facing, those are the solutions for the Thai industry that is recognized how to adapt to survive in difficult situations and overcome various obstacles.
"In order to show our efficiency in responding to the demands of customers, JSR Group is ready to present a selection of 'Completed Solutions' that can help customers solve long-standing problems in every dimension at INTERMACH 2022. We will exhibit on 200 square meters. The firm plans to introduce the most sophisticated technology such as the latest innovation from Germany of Haimer products under concept i4.0 that will reduce set-up tools used in production; innovation of measuring non-contact workpieces that are characterized by speed and precision, which is required by the manufacturing sector of the future; 3D SCAN technology that works with automation systems with a quality SI team to help design solutions. At the event, the company will focus on becoming a partner for customers rather than just being a seller. We are ready to inspect, check, repair, replace, recommend and provide the best solution to customers under the concept of "We Serve Solutions" at INTERMACH to be held this May," Mr. Annop said.
Thaisakol Group believes technology and innovation are the solutions for Thai industry
Mr. Panitan Kobkulsuwan, Director of Thaisakol Group, the leader in providing quality cutting tools and machines including after-sales services aiming to escalate production efficiency for customers by means of the best technology, said that despite having the omicron variant, our company is confident in INTERMACH's team and has accepted to attend this event. The firm has also foreseen a good sign from the industrial sector during the past year and continued to grow in 2022. Although there is a problem with higher costs from production chain problems and some delays in transportation due to the impact of the Covid crisis, the company believes that those problems will be a short-term problem. Entrepreneurs will be able to find a solution and adapt to the situation. The only way for the Thai industrial sector to survive and overcome the crisis is to focus on technology and innovation that will enable it to sustainably stand on its own.
"We believe that Additive Manufacturing or 3D Printing technology will play an important role in helping entrepreneurs overcome this crisis. As we have seen that this crisis is unlikely to end easily, thus entrepreneurs need to be more self-reliant, operate their own production in each step, and reduce the production line or we call it 'Reverse Globalization', which Additive Manufacturing technology is a solution in reducing procedures, time and costs for entrepreneurs. For this year, we will bring technology such as DesktopMetal 3D printers from America to exhibit at this year's event," Mr. Panitan added.
INTERMACH 2022, Leading Advanced Industrial Machinery and Innovation Exhibition of the Year
Mrs. Sukanya Amornurathkun, Senior Event Manager of Informa Markets, said that INTERMACH 2022, the most important and largest industrial machinery exhibition in the early year, will this year hold under the concept of "SMART TECHNOLOGY FOR MANUFACTURING". Leading entrepreneurs confirm to exhibit at the event. Those are included Okuma, Mitsubishi, Sodick, Hartford, Feeler, Universal Robot, Zeiss, and Mazak. The exhibition is held under the global security standard Informa AllSecure that has been highly accepted in the international trade fair organization.
Be ready for INTERMACH 2022 schedules from Wednesday to Saturday, May 18 - 21, 2022 with latest technology and innovation from leading entrepreneurs in the manufacturing industry at the Bangkok International Trade and Exhibition Center (BITEC), Bangna. For more information and movements of the event, please visit www.intermacshow.com.