INTERMACH 2022 is ready to organize this May, bringing a parade of entrepreneurs to participate in the event on May 18-21, 2022, at BITEC, Bangna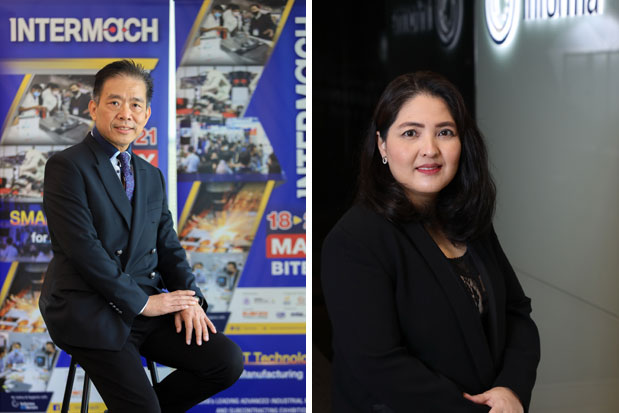 INTERMACH 2022 is ready to organize this May, bringing a parade of entrepreneurs to participate in the event on May 18-21, 2022, at BITEC, Bangna, while serving a recovery of the automotive industry, applying technology to support future competitiveness.
Modern technology and innovation are integral to helping industries and businesses adapt and survive at the present. Therefore, it is imperative that entrepreneurs have focused on technology and innovation. Informa Markets, as an expert in organizing international trade exhibitions, leads entrepreneurs to join INTERMACH 2022, the best showcase as leading advanced industrial machinery and subcontracting exhibition to be held on May 18-21, 2022 at BITEC.
Sukanya Amornurathkun, Senior Event Manager of Informa Markets, revealed that INTERMACH 2022, ASEAN's leading advanced industrial machinery and subcontracting exhibition, is ready to be organized under the concept of "SMART TECHNOLOGY FOR MANUFACTURING". The event will be a platform where entrepreneurs have access to innovation and technology for various industries. This year's event will feature the latest machinery technology which has been launched after many brands have delayed the launching of the product due to the slowdown in the manufacturing sector in previous. Also, the event will feature industrial robotic technology and automation solutions for the automotive manufacturing industry to support future growth. Moreover, electronics, mold, and industrial parts, medical equipment, including technology to support the aviation industry and aviation maintenance centers, these technologies, and innovations are essential for entrepreneurs as it allows upgrading the business through the use of the latest technology for maximum efficiency and the sustainable development of the future.
"This year's event is another important event that everyone should not miss. Besides presenting innovation and technology that brings all updates to the latest trends, the event will be organized on a normal platform. Participants will experience the latest machines closely and get hands-on experience in testing the system. There is also a BUYER's VILLAGE zone that will gather leading industrial parts buyers in one place. Entrepreneurs are looking forward to returning to the normal event once again this year. It also opens opportunities for all to promote the business grow," Ms. Sukanya said.
At INTERMACH 2022, metal technology from leading brands will be gathered and is equipped with the top sheet metal technology and fiber laser cutting machines, more gathering over 1,000 brands and leading technologies from 25 countries such as Mitsubishi, Okuma, Sodick, Mazak, Feeler, Hartford, Kafo, Haimer, Mitutoyo, Huawei, Universal Robots, Keyence, DesktopMetal, Seco, Cimatron as well as more than 250 quality industrial parts manufacturers in SUBCON Thailand, a business matching event that every business has been waiting for. It is one of the events in the region that create tangible outcomes with numbers of business matchings every year. In addition, participants will have the opportunity to participate in business matching through online platforms, opening more business opportunities to the global.
Moreover, INTERMACH 2022 will be intense with seminars on many key topics. This year, leading speakers from abroad will participate in a series of seminars to share knowledge and experience, such as INTERMACH FORUM #6: Optimize productivity and grow your profit with Japanese Smart Monozukuri Technology to educate industrial operators on how to upgrade productivity and profitability with Smart Monozukuri Technology, Japanese Concept to increase efficiency and productivity, Future Automotive Forum: ZERO-CARBON and Opportunities for Thai Entrepreneurs moving towards a Green Future Automotive Industry, ZEV Automotive Industry Seminar, a seminar about automation, robotic and modern automotive technology. Especially, there will be a ROBOT HUB showcase of innovations in the work of robotics and automation, the Robotic Cluster Pavilion from the Center of Robotic Excellence (CoRE). Moreover, there will be a consulting unit to advise about the benefits and tax measures on investment in automation, such as the exemption of customs duties on imported goods used in the production of robots and automation systems. (By the Customs Department) with advice on prototype development, develop personnel in the organization in a comprehensive manner. Additive Manufacturing Technology (3D printing) technology that plays a role in helping entrepreneurs to reduce production costs along with the first time of the Digital Manufacturing ecosystem, the zone presents digital products, services, and solutions, enhancing the efficiency of complex products manufacturing to be more efficient.
Mr. Sompol Tanadumrongsak, President of the Thai Auto-Parts Manufacturers Association (TAPMA), said that in the past year, industrial and business sectors have learned to adjust and try to return to normalcy. The auto-parts industry has also backed to grow in a V shape during the past year. This year, the automotive parts sector foresees bright opportunities, the industry exports are expected to grow by more than 10%, resulting in the automobile industry and related industries to benefit from the expansion.
The association's president added that following the growth in both the OEM and After-Market segments, and Thailand's key agenda in moving forward towards the goal of achieving Thailand's net-zero emissions by 2065, entrepreneurs have to adjust their production systems to be automated and adopt more technology and innovations to reduce environmental problems, reduce labor shortage problem in a production line, and reduce wage problems in the future. Currently, the cost of innovation and technology is becoming more accessible to small, middle, and large entrepreneurs. It's a worthwhile investment. The Auto Parts Manufacturers Association, the Federation of Thai Industries, and the Ministry of Industry have accelerated to promote the move towards Industry 4.0, which this year is a good opportunity for Thai entrepreneurs to attend INTERMACH 2022, giving entrepreneurs at all levels an opportunity to update technology and latest innovation. This year's event will gather new technologies that never stop for a showcase in both physical platforms and virtual exhibitions, which will benefit both domestic and foreign entrepreneurs.
This year, the Thai Auto-Parts Manufacturers Association which has more than 600 members together with the Federation of Thai Industries, related agencies in the automotive industry, and Informa Markets jointly organize the Future Automotive Forum to push Thailand to transform into modern automotive society to support the growing trend in the global market sustainably.
In addition, Thai auto parts entrepreneurs also hope to gain more business matching opportunities and expand their partners to the global market through participating in business matching activities at SUBCON Thailand 2022, the ASEAN's most important industrial subcontracting and business matching exhibition, through a business matching program for exhibitors of the fair to connect business and create opportunities for Thai and foreign entrepreneurs in the normal platform and through the online system, helping to extend the cooperation in the future. This is a quality time for Thai entrepreneurs to meet new customers through the activities of the event, Mr. Sompol added.
INTERMACH 2022 held in conjunction with SUBCON Thailand 2022 is organized under the world-class security and health safety standard Informa AllSecure. Over 50 seminars and conferences on topics related to the future industry, Buyers' Village, gathering leading industrial parts buyers, presenting industrial parts, the company's purchasing policy, and business matching activities with leading buyers from around the global will also be held. The business matching to be held at the event and online is expected to create several billion baht in business value.
Meet with the most comprehensive showcase for manufacturing technologies and solutions that will create greater business opportunities at INTERMACH 2022 to be held in conjunction with SUBCON Thailand 2022 from Wednesday to Saturday, May 18 - 21, 2022 at the Bangkok International Trade and Exhibition Center (BITEC), Bangna. For more information and movements of the event, please visit www.intermachshow.com, www.subconthailand.com
************************************************
We would like to express our deepest appreciation for your kind attention and further distribution.
For more information, please contact: